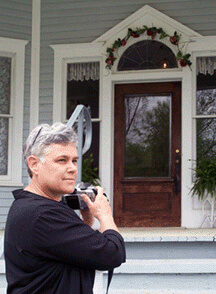 Patsy Gullett is a professional artist who lives and works in Atlanta, Georgia. She earned a degree in Fine Arts and has successfully applied her talents and training in the commercial art field, as well as in the creation of fine art pieces.
Since 1981, Patsy's work has focused on her love and interest in the Architectural heritage of the South and across the country, leading her to travel extensively throughout the U.S. She has produced many fine portraits of historical buildings and homes in sculptured watercolors and her campus scene series of universities and colleges. The quality and sensitivity of her work has attracted numerous public and private commissions.
I hope you enjoy the beauty and history of the piece you have selected. Many of these buildings I'm sure you have enjoyed in your travels and now you can anticipate seeing many more in your future travels. Or just enjoy the heritage of our country by looking at your collection of Sculptured Watercolors and Silhouettes.
Awards & Recognition
Arts for the Parks Competition – 1991 "The Capital" Top 100 paintings included in the
traveling show in Jackson Hole, Wyoming and throughout the U.S.
Piece purchased by Dunnegan Gallery of Art
First Place – Yellow Daisy Festival, Atlanta, GA. Fine Arts Invitational Classic, Gwinett, GA
Third Place – Cave Springs Arts Festival, Cave Springs, GA
Purchase Awards
Powers Crossroads Arts and Crafts Festival, Newnan, GA
Yellow Daisy Festival, Stone Mountain, GA
Winter Park Fine Arts Show, Winter Park, FL
Naples Art Show, Naples, FL
Coconut Grove Art Show, Coconut Grove, FL
Gasparilla Arts Festival, Tampa, FL
Mt. Dora Arts Festival, Mt. Dora, FL
Corporate Collections
Walt Disney World, FL
Federal Home Loan Bank, Atlanta, GA
Kaiser Permanente, Atlanta, GA
Fayette County Commissioners Chambers, Fayetteville, GA
Fayette County Bank, Peachtree City, GA
College Park City Hall, College Park, GA
WSB Television, Atlanta, GA
U.S. Capitol. Washington D.C.
World of Coke, Atlanta, GA